Sofort verfügbar, Lieferzeit 1-3 Tage
Hersteller-Nr.:
LH55UDDPLBB/EN
Produktinformationen "Samsung Smart Signage UD55D"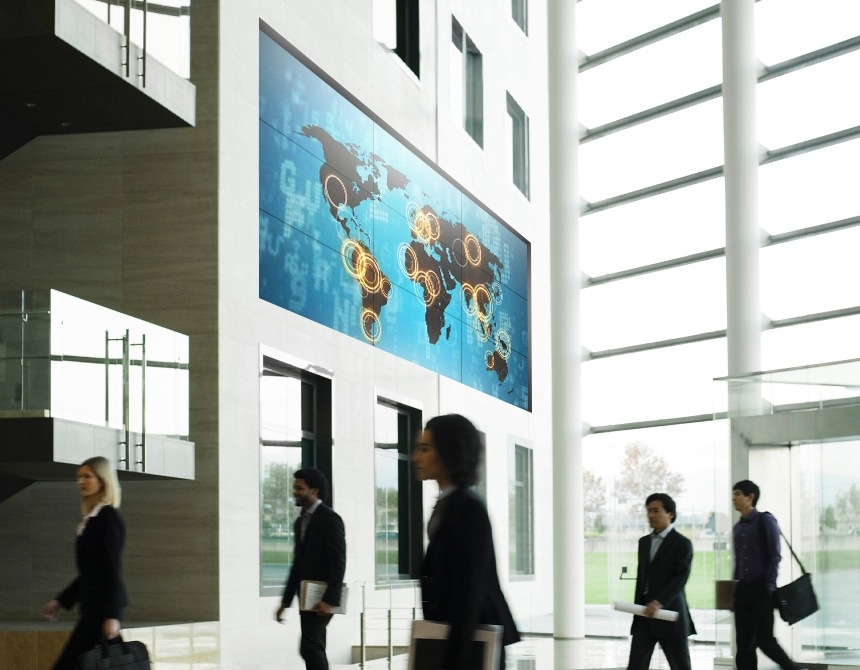 Provide seamless viewing with unprecedented 3.5mm bezel width
Samsung UD55D LFDs with FHD can take your digital messaging to the next level thanks to unsurpassed Samsung bezel innovation. 36% more narrow than the existing UD55C, and unrivalled among all competitors, these never before seen 3.5mm bezel displays can amaze audiences when combined together to form seamless video walls with virtually no visual distraction. From 4 meters (13 feet) away UD55D bezels are invisible to the naked eye creating a truly uninterrupted image for optimized visual messaging. Use this cutting-edge display technology to entice customers into your retail shop, replace traditional whiteboards in your corporate meeting room or provide important real-time information in public places. Additionally, provide highly bright, vibrant picture quality without glare or blurriness to completely captivate audiences with a powerful viewing experience. * Incomparable 3.5mm bezel width : Market-leading 3.5mm ultra-narrow bezels (bezel to bezel) enable displays to deliver seamless, impressive images and superior brand experience * Enhanced picture quality : Full-HD resolution with new backlit dimming solution to improve contrast along with improved contrast ratio create outstanding picture quality * Innovative anti-glare panels : Anti-glare panels prevent dazzling glare from disrupting the view along with Anti-retention to reduce haze by 44%

Amaze your viewers with accurate color across multiple displays
Deliver your messages in consistently accurate color across multiple displays with Samsung UD55D LFDs. The displays undergo a meticulous factory color calibration process, ensuring accurate color without image distortion without the need for manual calibration. The improved factory color-tuning for white balancing and color difference compensation ensure that the displays present image in uniform color with color temperature matching. For users who want to fine-tune the colors, Samsung Advanced Color Management offers more detailed management. Color vibrancy can be calibrated automatically or manually. Color values can be shared between multiple displays, ensuring outstanding intensity across all video wall screens that can impress the audience. Combined with the anti-glare panel that reduces light scatter to make messages more readable, UD55D LFDs can effectively deliver your content in the vibrant, accurate color to impress your audience.
Create, display, and manage with ease using Samsung Smart Signage Platform
The built-in Samsung Smart Signage Platform (SSSP) solution eliminates the need to purchase an additional PC for each display in a video wall. SSSP supports the MagicInfo VideoWall application that can play content created in the VideoWall authoring program or console applications. The embedded MagicInfo™ VideoWall S Player enables the easy display of video walls up to 4 x 4 without the need for additional PCs, video wall player software, or expensive video wall processor.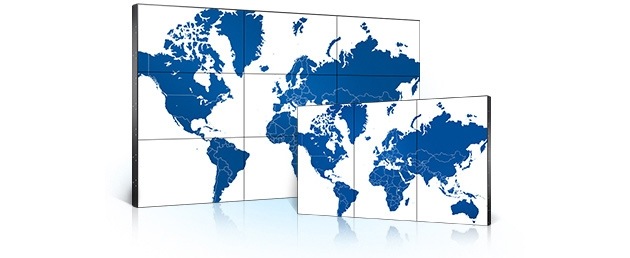 Display content optimally with easy image rotation
Whether using a single display or a video wall, you can create content in portrait or landscape mode—and then rotate it. Samsung displays include a pivot and Image Rotation function that display content vertically or horizontally, without ratio distortion. Conveniently rotate your content with three display options: original ratio on a single screen, full ratio on a single screen, or full ratio on a video wall.
Present varied content with an optional PC module
Play content from a variety of sources with the optional Setback Box-C (SBB-C). Added to a UD55D display, the SBB-C shows specific business content and provides powerful PC functions to deliver on-target messages. To change the content displayed, you simply replace the SBB-C in individual displays or a control display. The control display then transmits the message to the other displays in the video wall. If you opt for an SBB-C in each display, you gain incredible flexibility in delivering multiple messages over your video wall.
Connect multiple displays without picture quality loss through DisplayPort 1.2 support

Join up to 100 displays without losing picture quality with the DisplayPort® (DP) 1.2 multistream support. By using DP 1.2, businesses can display content in ultra high definition (UHD) of 3,840 x 2,160 in 2 x 2 video walls without additional equipment. The High-bandwidth Digital Content Protection (HDCP) daisy-chain capability offered on UDC Series displays helps reduce the cost of deploying multiple displays. With the HDCP support, LiveTV®, Blu-ray Disc™ and other HDCP content can be presented without an HDCP distributor.

Magic Clone

Easily apply consistent settings to displays in multiple locations with Samsung Magic Clone, without the cumbersome efforts to set up displays one by one. Program one display for settings such as volume, brightness and more. After the first display has been updated, save the settings onto a USB or external drive. Then simply plug the USB or external drive into new displays to copy options from one display to others.
Specification
Display

Diagonal Size

55"

Panel Type

D-LED DID

Resolution

1920 X 1080

Pixel Pitch (HxV)

0.63mm(H) X 0.63mm(V)

Active Display Size (HxV)

1209.6 X 680.4mm

Brightness (Typical)

700cd/m2

Contrast Ratio

3500:1

Viewing Angle (Horizontal/Vertical)

178/178

Response Time

8 ms

Display Colour

8 bit - 16.7M

Colour Gamut

69 %

H-Scanning Frequency

30kHz ~ 81kHz

Maximum Pixel Frequency

148.5MHz

V-Scanning Frequency

48Hz ~ 75Hz

Peak Luminance Ratio

84 %

Brightness

Max 700 cd/m2

Dynamic Contrast Ratio

10,000:1

Connectivity

RGB In

Analog D-SUB, DVI-D, Display Port 1.2

RGB Out

DP1.2(Loop-out)

Audio In

Stereo mini Jack

Audio Out

Stereo mini Jack

Video In

HDMI1,HDMI2, Component(CVBS Common)

Video Out

N/A

Video Out

N/A

Certain features with the Smart Hub may not be available without expressed consent regarding the collection and use of personal information. Content available through Smart Hub may vary among product categories, models and territories. Certain applications must be purchased and may not be available in all regions.